The ecommerce stores along with the help of ecommerce logistics companies have proved to be a blessing for the online sellers as well as the buyers. Are you one of those online sellers trying to expand your business? Ever wondered how can you keep your customers happy with your service? How can you convince them to return to your store again?

It's obvious that you should have attractive products to convince the customers for buying your products. But it is not just the products that can ensure growth for your business. Once the orders are placed, you need to take care of delivering these products safely at the doorstep of the customers too.

Shipping is crucial for every online business. This factor alone can either lead your business to progress or ruin it. Also, it requires a huge amount of money and efforts to carry out the shipping process smoothly. Thus, special attention should be paid towards shipping. Several ecommerce stores have adopted third party logistics providers for their ecommerce business. Choosing a logistics provider is a smart choice as they take care of the end-to-end delivery and require minimal manual intervention. They are equally helpful in saving your money involved in the shipping process.

Are you one of those entrepreneurs finding out ways to save your expenses involved in the supply chain management process?

If yes, then here is a set of the most effective tricks to gain more in your business. These tricks will not just help you in saving but also in gaining the customer attention.

Let's dive in!
1. Keep it small, keep it affordable- Here is a trick to reduce the logistics cost. We already know about the shipping rate calculation details discussed in the previous blog. You can't help with the weight and locations of the package, but you can do so with the size of your package.
Do you pack the products ready for shipment like this?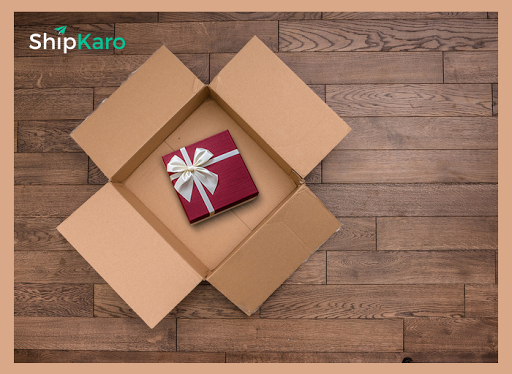 If yes, then you must avoid this! The size of your package is a factor which affects the calculation. For every ecommerce logistics company, one of the most common ecommerce packaging mistakes is choosing the wrong box for products. So make sure you don't use big packages if not required. This will just increase the total cost that you need to pay for your shipment.
2. Offer Free Shipping- One thing that you should know about online customers is, "The price they see is the price they pay". Customers are pleased to see the magical words, "Free Shipping" when they visit the checkout page. Increasing the prices of the product by adding up shipping costs is one way to cover up the shipping expenses. This can ultimately help in cost optimization. Along with this, promoting your free shipping offer with prominent advertisements can also grab the attention of shopaholic customers. Thus, one of the best secrets to being successful at ecommerce is to figure out how to ship profitably.
3. Set a limit on free shipping- Shipping can never be free. Someone always has to bear the shipment cost. So you need to act smart while offering free shipping. With proper analysis, set a minimum order value for offering free shipping. The customers will thus buy more products from your store to avail the free shipping. This will ultimately result in better sales. You can also choose to apply Free Shipping for selected products with the help of your ecommerce logistics company. You can use this offer for all the unique products at your store. Increasing prices of products slightly to cover partial costs of shipping is also one way to make up for the free shipping. It's not worth offering free shipping unless you can make the offer profitable. Keep your calculations clear so that you are able to make a profit out of shipping.
4. Brand packaging- With every order you deliver, you are not only sending the product to the customer you are giving them an insight of your brand. Do it in a precise way!
The packaging of the products should be done in such a way that no damage occurs. The package should contain the correct label and address so that there is no confusion once the product leaves the warehouse.It would be good if you mention the brand name of your online store at your package which would be an advertisement in its own way.

With these tricks, your online business has chances to have a steady growth. One of the best ways to implement all these tricks is by choosing a third-party logistics provider. Try ShipKaro and start expanding your ecommerce business with the amazing features.

You can now easily print the accurate shipping labels in no time, ship your products without any manual intervention and provide timely delivery to your customers.